Title - Tales From My Hard Drive
Genre - Chick lit
Date published - December 18th 2010
Publisher - Createspace
Format - Paperback
Pages - 170
Rating - 5 out of 5
Melissa is a 40 and something year old and just caught her husband cheating on her. The man whom she was married to for more than a decade and whom she thought was the love of her life. Angry, hurt, disappointed, she decides she needs a new life far from LA and Brett-the son-of-a-bitch who broke her heart. So bye bye LA - hello New York!!!
She moves in with her friend and finds a job at trendsetter. com as a journalist. It's not a job she is crazy about, but she needs every buck to get on her feet.
But when you least expect it, chances appear. Only this time, the stake is high. Being single at 40, even in NY, is not easy. So she decides to try online dating..and that's when the craziness starts. Dating all kinds of people, mostly weirdos, she starts writing down her "dating adventures" (more like her dating catastrophes) and publishing them in the New York Beacon. Each time hoping she would find Mr Right for her, could it be that Mr Right was already in her life? Torn between her hard drive and the real life, Melissa is going to tell you a story you will never forget.
Ok, this looks like me while reading the book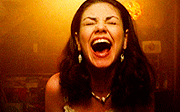 I can't remember laughing so much while reading a book! Melissa's adventures are surely something I will never forget. She is funny, young spirited, totally lovable character. And of course... the romance! I try not to say much, because I really don't want to spoil it for you, but I will only say YOU HAVE TO READ THIS BOOK!
'Tales From My Hard Drive' is surely the funniest, wittiest romance story I have read in my life! Don't believe me? Well see it for yourself, but let me warn you,don't read it at night...you will laugh so hard you will wake up the whole neighborhood!
I would like to thank the author for sending me a copy of this LOVELY book. She is amazingly talented and the humor is so fresh. I really love her writing style and yes...can't praise the book enough!
So what are you waiting for? Get your copy of this fab book now!
Tweet