Contact details:
You can contact me by email at: love2slim(AT)yahoo(DOT)com
or via Twitter @BookstoRemember
Review Policy:
If you are an author or a publisher and are interested in an honest review, I will be honored to check out your book. I treat all books equally and give my subjective honest opinion. This means I do give "poor" rating to books I didn't like, yet my reviews are polite and constructive. I also love posting pictures in my reviews, because I tend to keep them fun, and they usually capture my impression of the book. Please let me know if you have specific deadlines or release dates for reviews and I will do my best to meet them. I aim to post reviews of the books I'm sent within a few weeks of receiving them but this is subject to work and family commitments. I will also post my review on Goodreads, and provide you the link. I use a marks out of five rating system for my reviews with one being poor and five being excellent. I always say that each book is a DIAMOND, yet not all diamonds are my kind.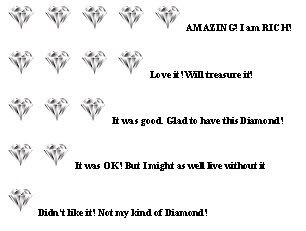 I enjoy the following genres:
Chick-lit
Romance (from historical to paranormal)
Mystery/thriller
Psychology
However, I am not interested in reviewing Erotica, Science fiction, GLBT and poetry.
Other features:
I will consider hosting guest posts, author interviews and giveaways and participating in blog tours. I am always open to new ideas so if you are looking to do something different get in touch and I'll see what I can do.
DISCLAIMER
This blog is my own personal book blog, written and edited by myself only.
The views and opinions expressed here are mine, and mine alone and are in no way influenced by any outside parties/events.
The books reviewed on this blog are from my personal collection, the library, or ARCS/Galley.
Any ARC or Galley reviewed on this blog was/is given to me by the author/publisher free of charge in exchange for an honest/unbiased review.
I receive no compensation in exchange for book reviews/recommendations/mentions and/or content.
All book reviews on this blog are my property and copyrighted to myself, unless otherwise stated.
Thank you,
Ananda